The Establishment is erasing Trump's name and legacy from history
From: Royal Brown III <royalbrowniii@aol.com>
Date: June 3, 2021 at 6:55:32 AM EDT
Subject: The Establishment is erasing Trump's name & legacy from history! Help me stop them!
Reply-To: Royal Brown III <royalbrowniii@aol.com>
The Establishment strikes again…

Royal, last session I proposed a bill that would rename Florida's longest road, Highway 27, the Donald J. Trump Highway.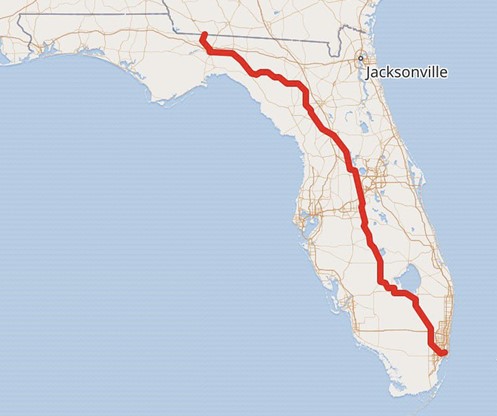 (The red line is Highway 27 – Florida's longest road. I've proposed renaming the highway after President Trump to honor his legacy!)
Grassroots support for the bill EXPLODED! Over 25,000 people signed my petition and began demanding we rename the highway to honor one of our country's greatest presidents.
What did so-called, "Republican Leadership" do with the bill?
These RINO's decided to throw Trump supporters under the bus and killed the bill.
Even worse, they refused to even hear the bill in committee!
Make no mistake: The Establishment is attempting to erase President Trump's name from the history books and destroy his legacy. 
I will NOT allow this to happen.
You and I must take legislative action to fight back. I am re-filing the bill in the Florida statehouse and will not back down.
Please show your support for renaming Highway 27 to the Donald J. Trump Highway by adding your name to my petition! Sign by clicking here >>>
Oklahoma recently passed a bill to rename one of their longest roads after President Trump… Florida needs to step up and be a leader on this issue.
The goal is to create a highway named after President Trump that stretches from coast to coast.
We can win this fight, Royal.
Losers like Liz Cheney PROVE when conservatives and Trump supporters band together we can defeat the Establishment.
Please show your support by adding your name to the Donald J. Trump Highway petition!
Anthony Sabatini
Florida State Representative
Personal cell number: 352-455-2928